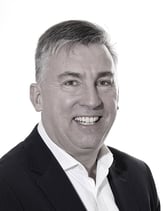 Crave are delighted to welcome to the team Jeff Down as our new VP of Sales for Strategic Accounts & the Middle East. Jeff comes with a wealth of experience in both the hospitality and technology sectors, and will be focused on expanding Crave's innovative hotel tablet solutions into Key Accounts in Europe as well as leading our expansion into the growing Middle East market.
Jeff has over 25 years of experience in the hospitality and travel industries spanning Digital Marketing, Website Development, CRM, Upselling, Distribution, AdTech and Hotel Consultancy. Jeff has held several key roles in hospitality technology companies including IReckonU, Cendyn, and Nor1 among others, thus bringing deep industry experience to Crave.
"The last 3 years have seen incredible upheaval in the hospitality industry with hotels having to deal with so many challenges, particularly around staffing. I have been impressed by the Crave product suite and the significant benefits which our clients experience. In addition to the time saved by automating many processes, Crave help deliver a significant ROI from upselling / room service / spa / leisure etc. I am excited at the prospect of applying my software / SaaS expertise to the Crave hardware offering."
Now resident in Belgium, Jeff is a keen cyclist and can frequently be seen racing through the Belgian and Dutch countryside. Other interests include regular Eurostar trips back to the UK to follow Plymouth Argyle, as well as helping his wife run a small Bed & Breakfast catering to guests with gluten and lactose tolerances.
We're all hugely excited to have Jeff join team Crave, and hopefully you'll be seeing a lot more of him at various events, and maybe even an article or two!
Craig Pattenden
Head of Marketing - Crave Interactive